Woodlawn's Reopening Metric
Current Stage: Yellow
Woodlawn is open for in-person Worship

Sunday Schedule:
8:30 am Premiere of Woodlawn Without Walls Online Service on Facebook and YouTube
9:00 am Traditional Worship in the Sanctuary
9:15 am Coffee Fellowship online ZOOM (link in newsletter or in comments of online worship)
9:45 am Sunday School
10:00 am Telephone worship
Sunday School ZOOM classes and 3rd Grade Class in Children's Wing at Woodlawn
10:45 am Contemporary Worship in the Worship Center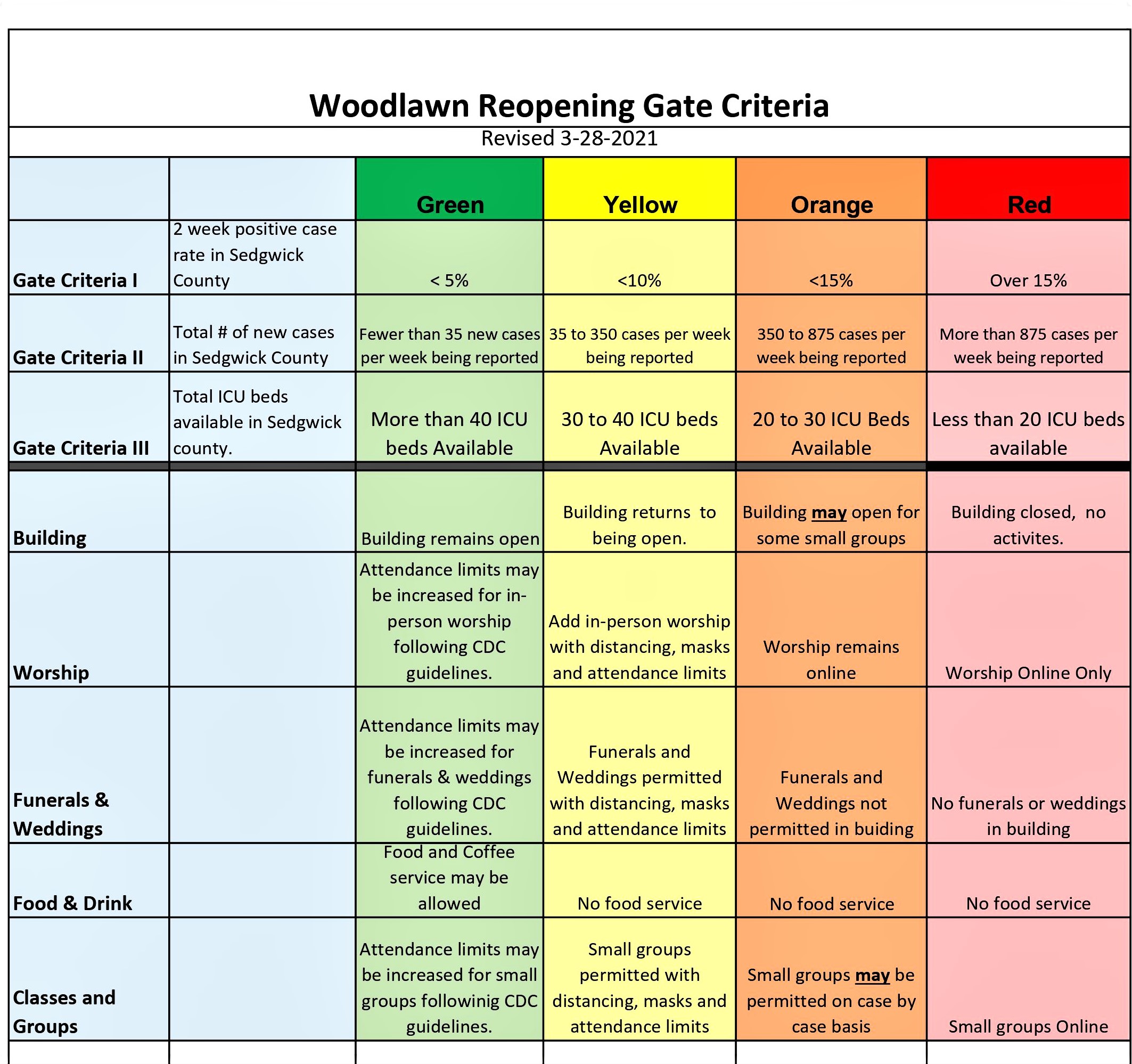 Reopening Woodlawn UMC Facilities Summary
Our vision of Woodlawn as a Christ-centered community making God's love real in the world does not change whenever we return to our building. Our mission to "Shape people to be the heart, hands and feet of Jesus continues to be our primary objective as we determine what we will do, what we could do, and what we can leave undone in the future.
As Woodlawn UMC seeks to fulfill its mission, we covenant together to uphold Wesley's three general rules for Methodists:
Do no Harm (to the Body of Christ, to others, or to self)
What practices ensure the safety and well-being of all?
What practices build up the body of Christ and the repute of the Christian faith?
Do Good (to others, as we would have them do to us)
How will we be a good neighbor to those in our community?
How will we ease suffering, and care for those in need?
How will we offer Christ to others?
Attend upon all the ordinances of God (so as to strengthen our relationship with Christ)
Worship and Holy Communion
Personal and Corporate Prayer (A prayer guide and mid-week prayers)
Searching Scripture (Classes for all ages)
Christian Fellowship (Groups for all ages for encouragement and accountability)
Woodlawn faces difficult decisions as we seek to do no harm. If our behaviors are not planned and well-executed, a new wave of infections and deaths will likely occur. If we reopen our buildings and resume gatherings prematurely, we will surely force our more vulnerable members to choose between keeping themselves and others healthy and participating in life of the congregation.
Reopening Woodlawn UMC Facilities will occur in three stages. The decision to enter each stage will be made by the Pastor, Associate Pastor, and Lay Leaders (Lay Leader, Lay Leader Apprentice, Executive Team Chair, and Executive Team Apprentice) Experts suggest that it is possible that we could move back and forth between stages should subsequent infections begin to increase. The advice of public health officials may change as more becomes known about COVID-19.
Teams will be formed to determine all implementation strategies and procedures. Teams may be formed for worship, staffing and administration, building use, small groups, youth, and children as well as any other areas as deemed necessary.
To see the complete reopening plan, click HERE.