Sunday, October 10, 2021
Moment for Mission: World Communion Sunday
Heifer International
Heifer International works to end hunger and poverty in partnership with the communities they serve. Their programs support entrepreneurs around the world, creating lasting change from the ground up. It begins with a seed investment of livestock or agriculture, followed by mentorship to help project participants build a business, and ultimately to gain access to supply chains and markets.
These families are able to earn a living income and continuously lift up their communities as they train the next generation of leaders. By supporting and training the world's farmers, ranchers, and female business owners, we're investing in a new breed of success.
Basket of Hope Todays Moment for Mission will Give a basket full of hope to a family in need. This gift includes rabbits and a starter flock of chickens, along with training and education on their care. These fast-multiplying animals will jumpstart families toward a sustainable future. Each $50 given will provide a basket of hope. Your gift today will go to help support these efforts.
Woodlawn Sunday Schedule
8:30 am Premiere of Woodlawn Without Walls Online Service on Facebook and
YouTube
9:00 am Traditional Worship in the Sanctuary
10:00 am Contemporary Worship in the Worship Center
10:00 am Adult Sunday School classes
Victory Class - Parlor
CATS - 12E
Spiritual Quest - 13E
** Wired Word on break
10:15 am Children's Church
Coffee Fellowship Window is open 8:45-10am
Questions about Woodlawn's reopening procedures? Click here for Frequently Asked Questions.
Covid Precautions:
Facemasks are strongly encouraged for everyone in Woodlawn's building, regardless of vaccination status. Masks may be lifted to eat or drink, but should not be removed.
Screen/Media Volunteers needed for Contemporary Worship
Volunteers are urgently needed for the Contemporary worship service on Sundays. Volunteers would serve once a month, sitting in the tech booth and advancing the screens by computer. It's as easy as pushing a space bar! Training is available.
Overseas Care Package Update
Overseas Care Packages will not be packed in October. The next packing date is November 4.
Giving Made Easy
There are many ways to give to Woodlawn so that mission and ministries happen and our facility is maintained. We want to make you aware of some giving options you may not know of, or just haven't thought about in a while. With Christmas approaching, it brings the perfect opportunity to give a little extra to Woodlawn UMC with each gift you purchase online.
Common ways to give:
Sunday morning offering – give when you attend a church service
Mail a check or drop it by the church office
Use the GIVING button on our website woodlawnumc.net
Ways to give when you shop:
Dillons Community Rewards – once you have an account setup on Dillons.com you can link your Dillons card to an organization you designate and a percentage of what you spend will be donated; you can choose Woodlawn UMC!
Amazon Smiles – When shopping on Amazon.com if you login to Amazon Smiles.com you can designate an organization to which you want a percentage of what you spend to be donated. Woodlawn UMC can be your designated organization
UMC Market Powered by IGive – The United Methodist Church setup a program with retailers throughout the country that will donate a percentage of what you spend shopping online to an organization of your choice. Go to www.UMCMarket.org or www.iGive.com to get started.
iGive is a free service to causes and members. Since 1997, iGive has grown to 350,000+ members supporting 50,000+ causes and raised over $9 Million!
Make your shopping count for a little bit more this Christmas season!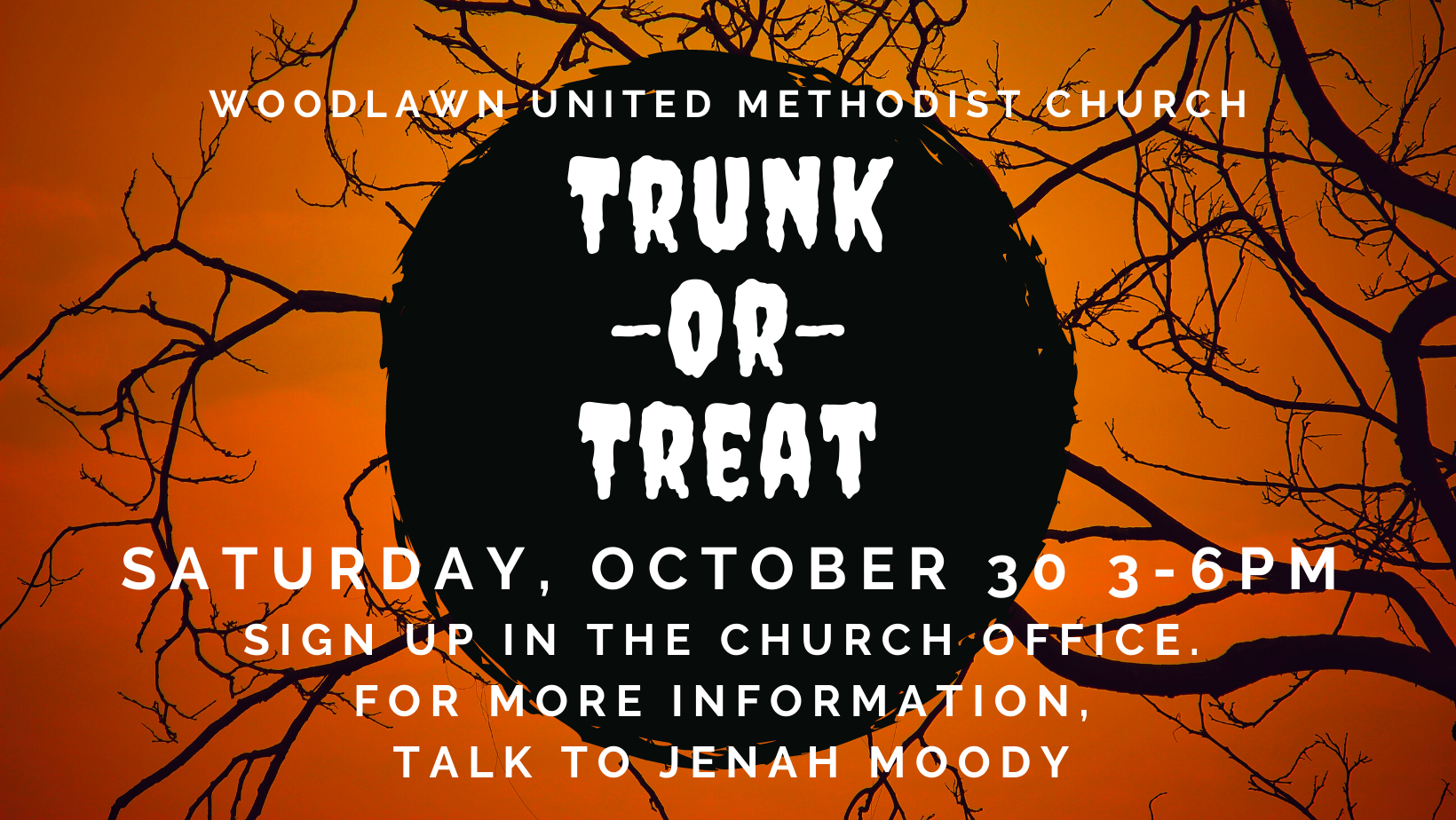 Sign up today in the church office to decorate a trunk. Want to be involved but don't have any decorations for a trunk? We can help! Our children's ministry has decorations/props from past events that we would be happy to loan, and which you can expand upon! We also welcome Halloween Candy donations for Trunk or Treat. Fill our tub before October 24. Join our team of organizers for this event by emailing Jenah Moody at
"Coffee's on Me!"
We often have flowers on the alter for Sunday's service in honor of a special day, celebration of a person or in memory of a loved one. This signup sheet is available in the office and has many openings if you would like to purchase the alter flowers for either the traditional or the contemporary service.
There is now another option to celebrate with your Woodlawn family on Sunday mornings: "Coffee's on me!" You can cover the cost of coffee Sunday morning to honor or celebrate an occasion. Coffee costs about $35 per Sunday. Signup is also available in the office.
Would you give your time once a month?
Tech Crew (Sound, Screens, Lights)
Ushers
Greeters
Lay Readers
Children's Ministry
If you are interested, please contact the church office at 316-788-1507 or email
Thrift Shop
Open Thursday - Saturday
9am - 2pm, 103 N. Baltimore
For the safety of you and others, we highly recommend wearing masks at this time. We continue to sanitize work areas and the front desk as well as door knobs after each shift. New items are put out daily! Come check us out!
Items the DCFS Food Pantry Can Use:
Crackers, applesauce, canned fruit, toothpaste, toilet paper, laundry detergent
For more information about the Derby Food Pantry, visit their new website at www.derbyfoodpantry.com
Therapy Services
Woodlawn hosts two student therapists in the Master of Science in Family Therapy program at Friends University who are available for in-person or teleconference sessions at no cost to the client. If you or someone you know can benefit from this service, please phone the therapist of your choice directly and leave a message. The therapist will contact you to arrange an appointment. Chelsey Gotti 316-209-2416 or Kim Binford 719-439-0384
Stephen Ministry
Do you feel God has forgotten about you in all the Covid despair? Stephen Ministers are available to help you deal with all your feelings about the crazy days Covid has brought to our world. Whether you are grieving losses, feeling anxious, or financially impacted, Stephen Ministers are here to help.
Call Stephen Leader Kelly Gifford at 316 708 0961 to be matched with a Stephen Minister for confidential care through the despair in your life.
Prayer Chain Note
If you would like to receive the daily prayer email, let Lois know in the office and you can easily be added. Make sure and mark this email as coming from a safe sender. Simply add as a safe sender and/or add to your contacts to insure you continue to receive the daily prayer email. This simple step will help prevent any service from blocking the email from reaching your inbox.
_________________________________________________________
Do you receive our weekly newsletter? It has even more information about what is going on in the life of our church! Send your email address to and let us know you'd like to subscribe to our weekly email newsletter sent each Thursday afternoon.
Worship services are available online on our Facebook Page, YouTube, and here on our Website. Already worshiping with us online? We'd love to know when you do! Be sure to like, react or comment on each worship service you watch. Those engagements are being used to determine "attendance" for our congregation at each service.
If you have been worshiping with us, we invite you to leave a review on our Facebook page!