Sunday, March 26, 2023
8:30 am Woodlawn Without Walls Online Service on Facebook and YouTube
9:00 am Traditional Worship in the Sanctuary
10:00 am Adult Sunday School classes
Victory Class - Parlor
CATS - 12E
Spiritual Quest - 13E
Contemporary Worship in the Worship Center
Church Office Hours:
9 am to Noon and 1 pm to 4 pm M-Th, and 9 am to Noon Fridays.
3-12-23 Moment for Mission:
UMCOR Earthquake Relief

Two powerful earthquakes struck southern Turkey and Syria in February, followed by 78 aftershocks in the days and weeks afterward. The combined death toll in Turkey and Syria now stands at more than 47,000 persons. At least 164,000 buildings have either collapsed or are so damaged that they need to be demolished. The humanitarian response is overstretched due to the devastation and cold weather.

United Methodist Committee on Relief (UMCOR) is providing tents, heaters, blankets, coats, food, and first aid kits to the victims. UMCOR will remain until people's needs are met and they have been placed in adequate housing. Please consider donating to the relief effort through this week's Moment for Mission at Woodlawn UMC. Remember, 100% of your donation ALWAYS reaches your chosen mission project or ministry through UMCOR! Another reason to be grateful for the United Methodist Church! Thank you so much for your support!
Your faithful giving remains critical to our church's mission and ministry.
Below are the moment for mission totals collected within the last month. Thank you!

Victory in the Valley $480
Angel House Bus $430
Boy Scouts $755
PANDO $640

You're invited to prayerfully consider how God is calling you to be
the heart, hands, and feet of Jesus.

You may mail contributions to the church at
431 S. Woodlawn Blvd. Derby, KS 67037 or click here to donate online.
Position Available Immediately


Woodlawn United Methodist Church in Derby, Kansas is searching for its next Director of Youth Ministry as it seeks "to shape people to be the heart, hands and feet of Jesus in the world." Working 20 hours each week, the Director of Youth Ministry is responsible for ministry to youth in 6th through 12th grades. This includes building relationships with families with youth in these grades, as well as recruiting, training, and deploying a team of volunteers. Members of the Woodlawn Congregation are encouraged to apply.
Primary responsibilities:
Developing weekly programs and special events for youth

Developing a plan to engage more youth from the congregation and the community in the youth program of the church

Developing a plan to enlist, train and resource adult volunteers for youth ministry weekly programs and special events

Support students through attending events, games and other activities in which they are involved

Encouraging, supporting and equipping parents to be involved in the spiritual formation of their youth

Communicating regularly and effectively with key ministry stakeholders, both inside the church and the community

Being financially accountable and a good steward for this ministry area

Willing to complete duties as assigned by supervisor (Sr. Pastor)
Qualifications:
Ability to complete Safe Gatherings Certification (Training and Background Check)

Some college education preferred, a degree is a plus

2-4 years' experience in student ministry preferred

Able to demonstrate and articulate personal relationship with Jesus Christ

Commitment to the United Methodist Church

Able to communicate effectively and professionally, both orally and in writing

Able to organize and keep accurate and detailed records

Comfort and competence with technology, including digital communications, social media, and church-specific software. Competence with sound and video technology is a plus

Ability to work as part of a team

Ability to be flexible and think creatively
Qualified candidates should send their resume along with a cover letter to:
Rev. Lance Carrithers
Woodlawn United Methodist Church
431 S. Woodlawn Blvd.
Derby, KS 67037
Introducing The WUMC Buck!

We are so excited about this new concept. For now, (although, keep an eye out in the future!), the WUMC (pronounced Wum-Cee) buck is going to be a great way to teach children about missional giving.

For the Lenten season, we are going to be collecting a special offering, going directly to a children's mission fund! On Easter Sunday, the children are going to participate in their annual Easter Egg Hunt, but with a special twist! In their goodie bags, they will receive a dividend of the WUMC bucks that were collected from 2/26 until 4/2. It will be up to them how many dollars will go to each missional organization chosen. They will literally get to see their donations in action!

How can you help? Each week Caitlin will announce the amount collected between the children and the congregation. On the first Sunday (2/26) we collected a total of $72! $42 came directly from the children and $30 from the congregation. How cool is that? We invite you to give as little or as much as you'd like to this fun children's mission. The children will get to see how awesome it is to direct their missional giving toward something they are passionate about, too.

Donating to the WUMC buck will only be used for missions! The idea of the WUMC buck may change as we learn and grow moving forward, but the dollar-for-dollar donations will always stay missional. We appreciate how you support children's ministry here at Woodlawn UMC!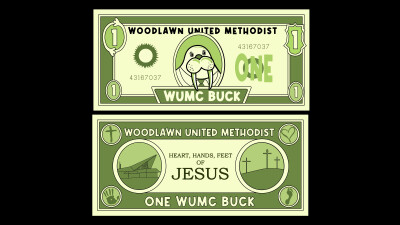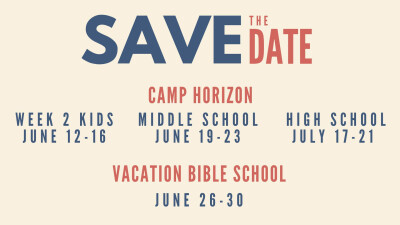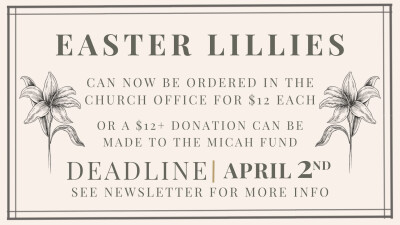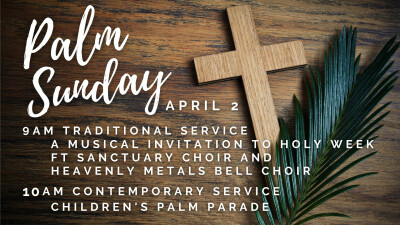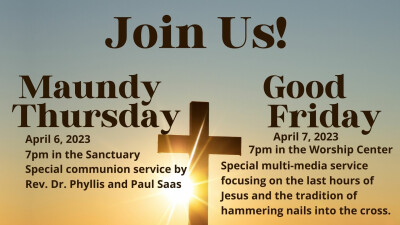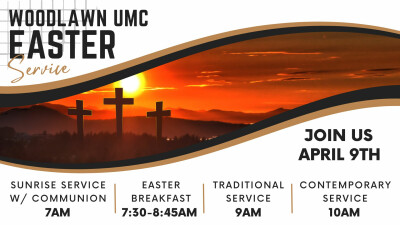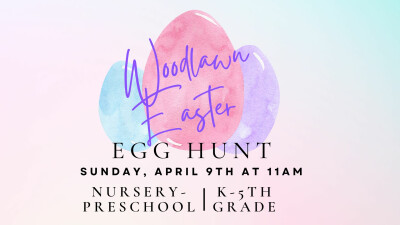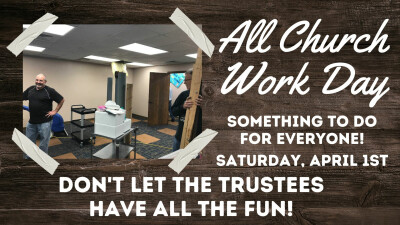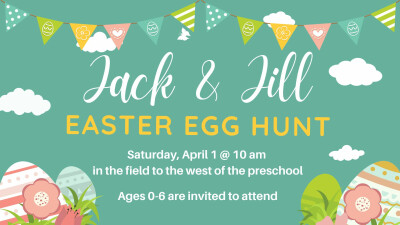 Screen/Media and Tech Volunteers needed for Contemporary Worship
Volunteers are urgently needed for the Contemporary worship service on Sundays. Volunteers would serve once a month, sitting in the tech booth and advancing the screens by computer. It's as easy as pushing a space bar! Training is available.
Stephen Ministers are here to help
If you are in a struggle with anxiety, loss, and/or isolation, you might not know exactly when your understanding and acceptance from this crisis will come. But, we can rely on our risen Lord to be truly present with it all, even when others can't be. If you need a message of hope and encouragement, call on a Stephen Minister to help you on this journey. A Stephen Minister can help you through the valleys of life to help restore your joy. Call Kelly Gifford- 316 708 0691 to be matched with a Stephen Minister.
God's command that we love one another is as relevant now as it was thousands of years ago, and Stephen Ministry is one way you can show that love. A Stephen Minister training class is starting soon. Contact Roylene Klein at 316-250-0135 to learn more about how you can get involved.
Derby Community Food Pantry

For Lenten needs, Tomato Products, Canned Fruit, Sloppy Joe Sauce, Spaghetti Sauce, Deodorant, Shampoo


Woodlawn Thrift Shop
Open Thursday - Saturday
9am - 2pm
103 N. Baltimore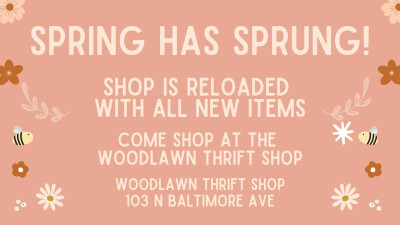 Opportunities to Serve
Tech Crew (Sound, Screens, Lights)
Ushers
Greeters
Lay Readers
Children's Ministry
If you are interested, please contact the church office at 316-788-1507 or email
Therapy Services
Woodlawn hosts three student therapists in the Master of Science in Family Therapy program at Friends University who are available for in-person or teleconference sessions at no cost to the client. If you or someone you know can benefit from this service, please phone the therapist of your choice directly and leave a message. The therapist will contact you to arrange an appointment. Linda Long 316-202-8749, Brian Cheever Lebosquet 316-444-0554, or Annel Silverio 954-871-1092.
Prayer Chain Note
If you would like to receive the daily prayer email, phone the office to be added to the daily email.
Giving Made Easy
There are many ways to give to Woodlawn so that mission and ministries happen and our facility is maintained. We want to make you aware of some giving options you may not know of, or just haven't thought about in a while. With Christmas approaching, it brings the perfect opportunity to give a little extra to Woodlawn UMC with each gift you purchase online.
Common ways to give:
Sunday morning offering – give when you attend a church service
Mail a check or drop it by the church office
Use the GIVING button on our website woodlawnumc.net
Ways to give when you shop:
Dillons Community Rewards – once you have an account setup on Dillons.com you can link your Dillons card to an organization you designate and a percentage of what you spend will be donated; you can choose Woodlawn UMC!
Amazon Smiles – When shopping on Amazon.com if you login to Amazon Smiles.com you can designate an organization to which you want a percentage of what you spend to be donated. Woodlawn UMC can be your designated organization
UMC Market Powered by IGive – The United Methodist Church setup a program with retailers throughout the country that will donate a percentage of what you spend shopping online to an organization of your choice. Go to www.UMCMarket.org or www.iGive.com to get started.
iGive is a free service to causes and members. Since 1997, iGive has grown to 350,000+ members supporting 50,000+ causes and raised over $9 Million!
Make your shopping count for a little bit more!
_________________________________________________________
Do you receive our weekly newsletter? It has even more information about what is going on in the life of our church! Send your email address to and let us know you'd like to subscribe to our weekly email newsletter sent each Thursday afternoon.
Worship services are available online on our Facebook Page, YouTube, and here on our Website. Already worshiping with us online? We'd love to know when you do! Be sure to like, react or comment on each worship service you watch. Those engagements are being used to determine "attendance" for our congregation at each service.
If you have been worshiping with us, we invite you to leave a review on our Facebook page!